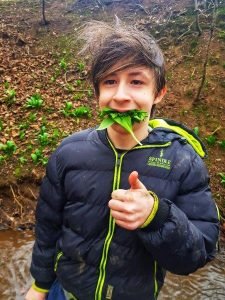 As we head into Spring the forest is taking on a lush green blanket: as we walk through, there is the unmistakable scent of garlic- people know straight away that there's ramsons (Allium ursinum)- or more widely known as wild garlic! It shows early in the year- taking advantage of the early sun before the forest canopy brings shade.
People often pick wild garlic, adding it to salads, eating it raw or making a gorgeous pesto with it. Indeed, recently, in my biography blog post (see here), I spoke of my favourite thing to cook on a campfire was wild garlic tempura (recipe to follow…). But, before we head off and pick something that we think is tasty- we MUST KNOW WHAT WE'RE PICKING!
Arum Maculatum:
As I walked into the forest yesterday the first thing that struck me was that the first leaves of Arum Maculatum had popped up in the last few days. These patches of leaves are in the places where I will see the distinctive flower in the summer- and something that I'm always watchful of. Also known as Cuckoo Pint, Lords and Ladies or Jack in the Pulpit- they feature in the exact same spot as wild garlic. The difference being- they are poisonous! And, can easily be picked when gathering wild garlic!
How does it irate:
Arum Maculatum contains needle shaped crystals, which will irate the skin, the mouth, the throat and stomach lining- causing a burning, itching or stomach upset- they could also trigger swelling and breathing difficulties. Naturally, we need to avoid consuming it!
What's the difference:
This is the main question! Firstly, please don't panic- when you know what you're looking for the difference is quite clear! But that's a key thing to remember- you must know what you're picking!
Wild garlic has a narrower and more pointed leaf, that tapers to the stem; whilst Arum Maculatum has a more rounded end, but two really obvious blades, making the leaf look like an arrow head- with the stem coming from the crook formed between the blades.
Touching the leaves of Lords and Ladies won't cause irritation, unless you break the stem or leaf and the 'juice' comes into contact with skin.
The smell is often a key give away- but because the two plants grow in such close proximity to one-another- the scent of garlic can easily pass to Lords and Ladies (I've done the sniff test each year for the last three of four at least!).
Also, you have to consider the sustainability and legality of picking wild garlic- legally, you can pick the leaves of any plant growing wild for personal consumption. But sustainability- only pick one in twenty of the leaves, and make sure it's only one leaf from each plant.
The main message here, is that you should enjoy wild garlic carefully! Coming soon, I'll blog a recipe for wild garlic tempura (best cooked on a fire- but then I am biases…), as well as wild garlic pesto!
Happy and careful foraging! See you soon.
Morgan